Latest rumors in St. John's rebranding initiative have university reverting to its former "SJU" initials, a move that would harken back to past glory days of Lou Carnesecca and Chris Mullin. (Photo courtesy of Sports Illustrated)
As a St. John's University alumnus who is both a lifelong Queens resident and old enough to remember Lou Carnesecca coaching, (my first college basketball experience came as a 5-year-old in 1991, when I watched several minutes of a St. John's win at what was then Alumni Hall, and a team led by the late Malik Sealy) my first reaction to my alma mater supposedly reverting to its former "SJU" abbreviation was a simple one, one of relief and a commitment to finally embrace its history that seemed to have been forgotten more and more with each passing season.
IT'S ABOUT TIME.
For people like myself, and other, older alumni, SJU was more than just an abbreviation. Rather, it was a tradition, a correlation to the greatest successes of St. John's University athletics, and not just basketball for that matter. Yes, Mullin, Jackson, Berry, Wennington, Lopez, Lapchick and Carnesecca were all integral parts in intertwining the SJU fabric deep within the roots of New York City and its surrounding areas, but the Frank Violas, John Francos and Rich Aurilias (yes, even though he had a marginally solid Major League Baseball career, he will forever be recognized as one of our own) of the world were just as instrumental in incorporating SJU into a household name.
When Saint Joseph's University used their longer existence (the Philadelphia institution was founded in 1860, ten years before St. John's) to claim the SJU title, St. John's then relaunched themselves under the "STJ" abbreviation after being allowed to still use SJU for a brief period of time by virtue of a written agreement between the two universities. The STJ rebranding initiative was officially publicized in its athletic programs in the summer of 2006, shortly before I started my junior year there. While STJ is all the current student body knows, (more on that later) let's be honest, the new initials haven't gained much traction outside the campus. Most alumni, who are the lifeblood of a college or university, especially those whose significant donations are the impetus for many a new endeavor; be it athletically or scholastically, still acknowledge St. John's as "SJU." ESPN even did the same in their recap of St. John's NIT victory over Saint Joseph's this past March in what may now qualify as a Freudian slip: (photo courtesy of friend of the website David Rochford)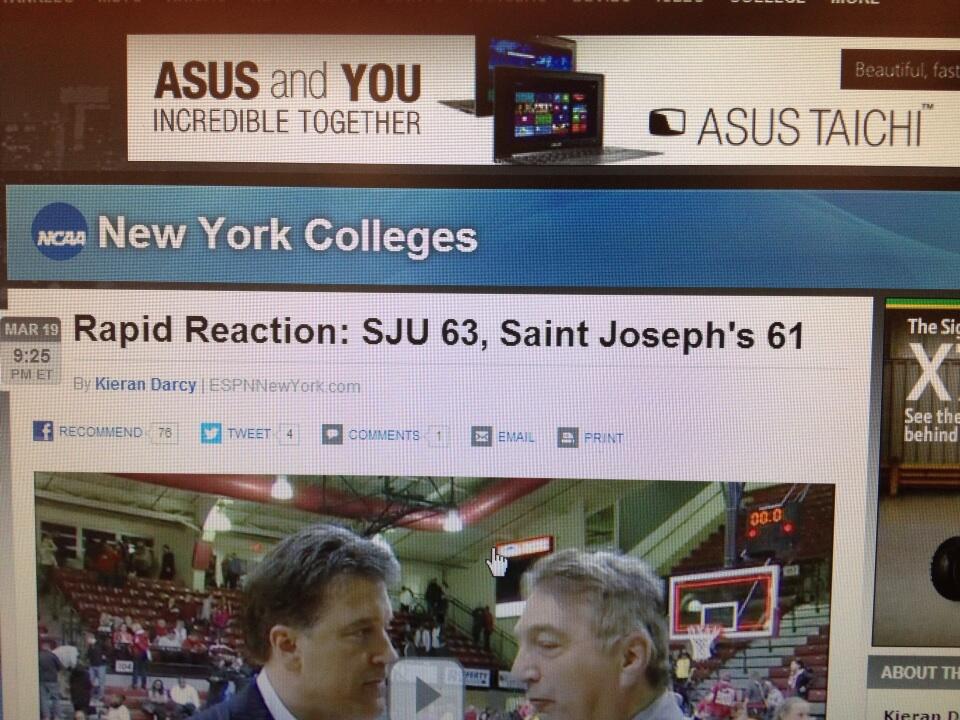 As part of their latest attempt at rebranding, which was mentioned in passing through the St. John's basketball Twitter account during the offseason, the university has already ditched longtime athletic apparel supplier Nike for a much more lucrative arrangement with Under Armour, who rose to fame as the backer for the University of Maryland, in a six-year contract that starts this Monday. (Under Armour's founder, Kevin Plank, is a Maryland alum and a former high school football teammate of Eddie George) As part of the agreement, Under Armour will most likely put their own spin on the St. John's jerseys, and a prototype that Quinn Rochford, one of our friends at Rumble in the Garden, linked to, suggests not much of a major cosmetic overhaul.
The latest rebranding twist broke last night, when the St. John's campus activities office tweeted the following:
STJnow fans. We will be changing to SJUnow....stay tuned. #STJ2SJU
— St. John's NOW! (@STJnow) June 25, 2013
Exactly 31 minutes later, St. John's student newspaper, The Torch, confirmed this:
.@STJNow tweet confirms switch to SJU. The University's change from STJ back to SJU is part of the school's rebranding process - sources.
— Torch Newspaper (@STJTorch) June 25, 2013
Yet, in a move that should be celebrated because of its apparent signal of an embrace of what made the athletic program(s) at St. John's notorious, several members of the student body voiced surprising displeasure at the decision, claiming a connection to the "STJ" moniker, as well as a failure to be informed of such a move. Rather than criticize the people whose position I was in no less than five years ago, I will simply hope that the future St. John's alumni eventually come around and see things from the other side of the fence, that "SJU" will reintroduce the past to the present, and together, the two groups can build for the future.
In another, somewhat lesser, matter, some others have argued that the only way St. John's can justify the switch back to SJU from a basketball perspective is to also revert to the Redmen nickname that they used for decades until officially becoming the Red Storm in 1994. Again, as a somewhat older alum who vividly remembers the Redmen, and even heard several "Let's go Redmen" chants while doing play-by-play, I tend to agree. However, I understand the reasons why such a change would not occur, primarily due to the politically correct nature of society and not wanting to offend Native Americans by adopting a nickname with negative connotations. I get that. It's the same reason why Stanford, (Indians to Cardinal) Siena, (Indians to Saints) Marquette, (Warriors to Golden Eagles) and Miami of Ohio (Redskins to RedHawks) all eschewed their former names. Then again, you still have the Florida State Seminoles; coupled with the use of Native American-themed names still exists in professional sports, with the Atlanta Braves closing in on another National League East title, the Cleveland Indians flaunting their Chief Wahoo logo throughout Progressive Field, Robert Griffin III leading the Washington Redskins back to prominence, and the Chicago Blackhawks only ten hours removed from their second Stanley Cup in the last four years. Professional sports is held to a higher standard, yes, but all of those teams would still be household names even if they weren't currently successful. Even after the Mike Jarvis and Norm Roberts regimes, St. John's still carries a larger name and brand cache than most may realize, especially with Steve Lavin at the controls, so a return to the Redmen would certainly have its fair share of support.
Forgive me for going off in another rambling tangent here, but most of the true supporters of St. John's University come from the SJU era. Nothing against the current students, but how many of them show up at what is now Carnesecca Arena and/or Madison Square Garden every game? The fact that the university isn't as much of a commuter-based school is irrelevant. When you look at the attendance numbers, most of the patrons are of an older demographic, which would explain why university administrators cater more to them, since they are the ones generating the most revenue. It may not be right, but it is a sad truth.
Long story short, if such a rebranding does go this far, and the university returns to its roots, it is a step in the right direction, which will only yield positive benefits in the long term for all parties involved, even if this is a process that has more than a few detractors.